Page Contents
About Taurine Jailbreak
How to Install – Download iPA
How to Migrate from Checkra1n / unc0ver
Q&A
About Taurine Jailbreak
Taurine is new jailbreak tool released by coolstar for iOS 14.0, iOS 14.1, iOS 14.2, iOS 14.3. It is a semi-tethered jailbreak tool. Semi-tethered mean you need to re-jailbreak once you will restart your device.
Also, this jailbreak tool is a open-source jailbreak development, mainly this tool made up with libhooker system. The main developer of the Taurine jailbreak team, coolstar just twittered that they will release the taurine ( Odyssey 14 ) tool to the public.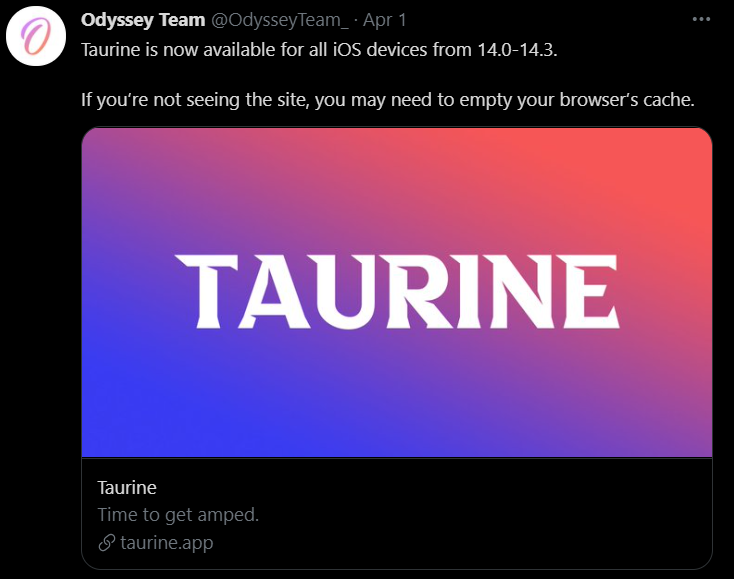 How to Install – Download iPA
Download latest version of Taurine Jailbreak tool
Installing via AltServer
Download the latest release of Taurine.
Download the latest release of AltServer.
Navigate to where you downloaded AltServer to, and extract the AltServer.zip. You should have the AltServer application in your Downloads folder!
Double click on AltServer to run the application.
Install the Mail plug-in when prompted.
Go to the Mail app, then Preferences, then Manage Plug-Ins, and enable AltPlugin.
Plug your device into your Mac, and make sure it's trusted.
Click on the menu bar item for AltServer, then go to "Sideload .ipa" and select your device.
AltServer will ask for your Apple ID username and password. This is required for the installation process. Enter your Apple ID username and password, then click 'Save'.
AltDeploy will start sideloading Taurine onto your device!
Taurine should now be installed on your device!
AltStore Repo
How to Migrate from Checkra1n / unc0ver
You can migrate from other jailbreak tools to taurine. Following guide will help you to successfully migration.
If you are already jailbroken user with checkra1n or unc0ver, you need to reset your root file system. for do that open chekra1n or unc0ver jailbreak tool then go to the settings and there has a restro root fs button. enable it and do jailbreak. It will reboot your iPhone/iPad several time.
After the successful restoration you can see the cydia and jailbreak apps are not in your home screen.
So now time to do jailbreak migration.
Download and install Taurine jailbreak using below butons.
Download and install Taurine jailbreak
how to get taurine jailbreak online?
Step1- Install Oddy store from following button.
Step2- Go to Setting and trust the application.
Step3- Open oddy store and tap the online install button.
Step4- tap the installation button.
Step5- Go to device setting and trust the taurine application.
Step6- open taurine app and tap the jailbreak button.